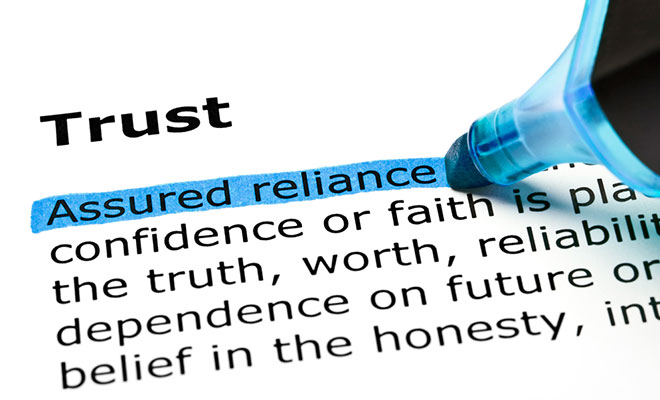 How Leaders Build Trust
|
I spoke with my friend Bill George, Senior Fellow and Professor of Management Practice at Harvard Business School, about what it means to lead ethically. His responses struck me as especially salient in our current business landscape, so I've paraphrased them below. (You can read the entire conversation in The Executive Edge: An Insider's Guide to Outstanding Leadership.)
Trust can be fleeting – especially the trust we instill in leaders. A leader might spend 30 years building trust, and then watch it disappear in 30 minutes if he's not careful. And when leaders flagrantly violate trust, it's often never recovered.
Consider the epidemic of distrust caused by leaders putting their self-interests above all else. You'll even hear some economists argue that this makes sense, because we're all motivated by money and that's just how the market functions.
Well, I disagree. Greed is not the market operating. Greed is actually disgraceful. But unfortunately, many leaders get away with it. Then all the people that depend on them—customers, shareholders, communities—are betrayed. Often a whole enterprise is destroyed.
To me, if you're privileged enough to be in a position of leadership, it is paramount that you maintain the trust of the people for whom you have a responsibility. And if you violate that, then you have failed.
Now, here's the catch. We all fail. But we can recover. Leaders can bounce back, but they have to prove themselves. I like to think that the virtues you live by when things are going well don't matter.
The real test is how you behave when times are tough. And if you're a leader, your constituents want to see what you do under severe pressure. If you can stay true to your values then, people will trust you again. You'll be viewed as authentic.
In fact, there's a correlation between being an authentic leader and getting great results.
Here's an example. When Anne Mulcahy—former CEO and chairperson of Xerox—was faced with bankruptcy, she reconfigured the whole company and made some really daring decisions. She decided not to cut R&D, not to cut customer support, but to invest in the long term. They ultimately had to trim up and have fewer employees in the end, but they came back. They avoided bankruptcy and achieved great success, in fact. And Mulcahy didn't have finance experience – she rose through the ranks, starting as a salesperson out of college. Authentic in her virtues and loyalty to Xerox; she made many bold decisions and went on to be voted one of America's Best Leaders by US News and World Report in 2008.
How to Build Trust
So how can you do this? It requires a few qualities.
You're willing to get experience doing the work of your team. This doesn't mean giving rousing speeches, putting out strongly worded press releases, or releasing polished promotional videos. This means you actually spend time with the people doing the work.
You honor those people by listening and responding in earnest.
When I was at Medtronic, I gowned up and saw between 700 and 1,000 procedures. I'd put on the scrubs, met with the doctor, and watched an open-heart surgery, a brain surgery, or a pacemaker implant. And that's how I learned the business.
When I was on the board of Target Corporation, the former CEO, Bob Ulrich, explained how he walked about 14 store floors a week. He didn't tell them he was coming. He just put on a sweatshirt, walk around, and watch the store run.
And take Dan Vasella at Novartis. He'd be down in the labs all the time with the researchers asking, "What are you working on? What are the barriers?"
Instead of being the invisible entity who spends his or her time at black tie CEO events in DC, this is a leader who delves into the real day-to-day functions of the business. And that's the type of leader who builds trust.
To maintain that trust, you need care about your team, want to be out there with them, and love the business. You really do have to love it! I can't stress that enough. If you don't love it, don't do it.
First published at linkedin.com.
Image – depositphotos