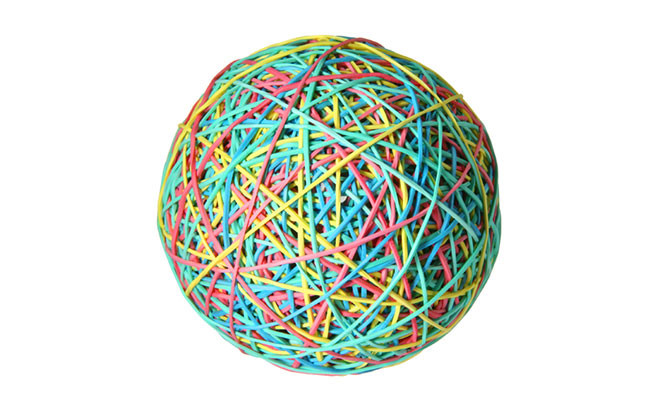 Collaboration – a key to success?
|
Collaboration, crowdsourcing, crowdfunding: hype or essential business values?
Collaboration is a big-time word. Everyone uses it. It's a part of mainstream business jargon. But has the actual practice–and resulting value–of collaboration faded away?
The following is a guest post from Andrew Filev, the founder and CEO of Wrike, an online project-management platform that provides work management and better employee collaboration.
Here's Andrew:
Eight years ago, I faced a major dilemma. How could I get my geographically dispersed team to collaborate more efficiently? We were a large group of remote programmers, and we needed a tool to manage projects and foster collaboration. Because there were no tools flexible enough for us to use off the shelf, I set out to build Wrike.
And my passion for collaboration was born.
A year later, the press started raving about what we were already practicing, using buzzwords such as collaboration, tribes, and crowdsourcing. Books such as Wikinomics, by Tapscott and Williams, and The Wisdom of Crowds, by James Surowiecki, helped popularize the ideas. Projects such as the Linux OS, Wikipedia, and YouTube proved their potency.
Suddenly, collaboration among remote workers became not just a possibility but a glorious vision of the future. And dedicated followers (tribes) were viewed as a fabulous, often free source of ideas and content, resulting in increased speed in decision making and general innovation.
But as these concepts went mainstream, they were written about less and less. And the hype eventually died down.
Which raises the question: Are collective wisdom, crowdsourcing, and collaboration still an essential part of building a business or movement?
Crowdfunding the Future
One area in which I feel collaboration is very strong is in the crowdfunding arena. The advent of websites such as Kickstarter, Indiegogo, and RocketHub has made it much easier for entrepreneurs to get funding for their projects. In addition, it's given them a platform to receive feedback straight from customers.
The most successful Kickstarter projects are the ones where the creators collaborate with the crowd. They exchange ideas with customers to improve products, positioning, or even promotion.
For example, I recently backed Dan Shapiro's Robot Turtles board game on Kickstarter. It uses a game board and colorful character cards to subtly teach programming fundamentals to children (and adults) who play. The project achieved its original pledge amount of $25,000 after only five hours online. In fact, the project ended up receiving pledges totaling $631,230 from 13,765 backers.
Whereas other entrepreneurs may have sat back and just delivered what they promised, Shapiro used the feedback from his customers to improve his line of products. He eventually wrote a more complex set of rules so that adults could enjoy the game, and he facilitated international translations of his game manual.
The online menswear retailer Pistol Lake has a similar story. It used Kickstarter as the jumping-off point for its line of clothing and made its monetary goal in less than two hours postlaunch. But more important, after four days of the Kickstarter campaign, it had to change its name because it received a cease-and-desist letter from lawyers claiming copyright infringement. Soon it arrived at its current name, Pistol Lake, thanks to supporters on Hacker News who suggested choosing the name of a body of water memorable to the company's founders.
Products aren't the only thing that crowdfunding is good for, though. Even the careers of young, promising people are supported by benefactors. These aspirants are on Upstart.com, seeking financial backing not for their ideas or their projects but for their futures as leaders and doers.
In exchange for the money they raise, these young "upstarts" will pay a small share of their income over five or 10 years to the investors who take a chance on them.
Tapping the Crowd's Wisdom
Businesses have been successfully tapping the wisdom of crowds for creativity and expertise that may not lie within their internal work force. The term open innovation comes to mind here–the using of external sources of innovation, such as customers, brand advocates, academia, and even competitors.
A good number of multinational corporations put open innovation to good use, collecting brilliant ideas for their businesses via different submission programs and even through competitions. Think Procter & Gamble's Connect + Develop program, Lufthansa Cargo's Air Cargo Innovation Challenge, or Starbucks's MyStarbucksIdea.com idea-submission website.
Even our ongoing conversation with Wrike customers through different kinds of channels is an example of open innovation. After all, a lot of our feature releases are inspired by, if not completely drawn from, feature suggestions from our customers.
Collaborating With the Crowd
The music world is an area in which collaboration is practically ubiquitous. And not just with musicians who invite fellow performers to contribute to a song (violinist/dancer Lindsey Stirling and her innumerable musical collaborations comes to mind), but also between music artists and their fans.
For example, Web communities such as Indaba and Talenthouse run regular remix contests sponsored by well-known music acts. In these contests, amateur musicians can create their own remixes of an artist's tracks using original source material made available to entrants. The artist typically picks the winning remix from hundreds of contributors and includes it in a future album or gives the winner a prize.
3-D printing is another huge area in which collaboration occurs daily. As one of the most disruptive technologies around, 3-D printing has been hailed as both a manufacturing revolution and a dangerous technology that must be regulated. Able to cheaply manufacture otherwise expensive medical tools such as robotic prosthetics (see the Robohand or the Dextrus), it is just as able to create functioning (and deadly) plastic firearms.
But the real action lies not in the act of printing but in the sharing done by the community of 3-D printing hobbyists. These people share, modify, and discuss digital schematics for manufacturing 3-D goods, nurturing an entire subculture of collaboration.
Other websites, such as Threadless and Teefury, thrive on selling T-shirts to customers designed by and voted upon by the community.
Then, of course, there are all the social dot-coms that subsist on user-generated content: Instagram, Flickr, Pinterest, and the wild, often woolly world of Internet forums. The list of collaborative organizations is endless.
Why Collaboration Is Essential for Growth
So to answer the question I started out with: Is collaboration essential to growth? Yes, now more than ever. The lack of recent hype merely suggests that the concept of collaboration has been absorbed into the philosophy of many organizations. And if yours hasn't done it yet, make the change. It should be an integral part of every company's DNA in order to survive and thrive.
There are two reasons for this:
1. By collaborating internally via social-media tools, wikis, videoconferencing, and more, you increase productivity.
It's no surprise that teams that use social-media tools for internal communication find common ground on which to work. For example, California chipmaker Xilinx reported a 25 percent increase in engineer productivity by using tools that encouraged peer-to-peer collaboration. And then there's the extreme practice of having always-on videoconferencing in Shutterstock. That company uses it as a communication channel for its remote workers.
2. By collaborating externally with customers, partners, and vendors via user forums, blog comments, Twitter, Facebook, live Webinars, conferences, and meetups, you gather feedback that increases innovation.
At Wrike, feedback from our customers directly influences which features we release for our project-management software. They're expressive about which enhancements they want for the software, and that collaboration consistently betters our product.
It may sound very New Agey and fuzzy to you, but the companies that practice collaboration are the companies that breach boundaries. They're the ones carving out their niche in history.
They're the ones forging the path into a future none of us can predict.