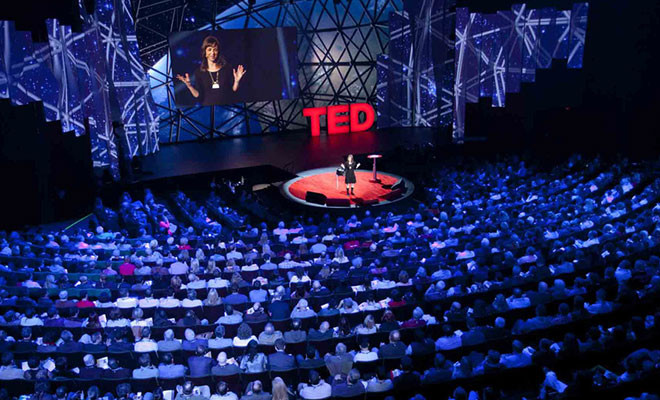 How to Deliver a Tedx 'Talk'
|
The words I say to myself or how to deliver a successful TEDx talk. Late last year I received an email from one of the TEDx organisers in Paris – Caroline Carlicchi. I had never met Caroline; she had heard of me and experienced some of my thinking remotely during a course in India conducted by one of my associates there. The call was an invitation to present at the TEDx conference in Paris in June. Now who has not heard of TED talks? Well I find that this divides into two camps – those who have and are passionate disciples of the TED concept and those who have not yet heard of them but who are about to become Passionate disciples of the TED concept! I know of no one who having been introduced to TED does not rave about the talks, the presenters, the whole concept. So to be invited to speak at one of the conferences was for me a huge honour; a marker in my career and I have been in business now for over 40 years.
"Yes" I replied without hesitation and without question. "Mid June?" Caroline asked. Oh no .. mid our planned bike tour across France … but "Yes" I replied on the basis that I would find a way to move or work around the existing cycling plans. And "In French". OMG I thought. My French although OK in local conversations and fetes in rural France where we live consists of farming talk not the talk of the business elite in the heart of France. "Yes" I replied with an unmissable quake in my voice. And so began what was a remarkable journey of learning, some learnings I might have expected and many I could not have anticipated in a million years!
I was in India at the time of this invitation and it was not long after the news had broken of the rape in Delhi late last year. My principle has always been to work with what is most current and most powerful for me. To discover the deepest truth and explore the structure of that – that is basis of how I work. And this news in particular had haunted me so it was inevitable that it would become the focus of my talk. And with talk of rehearsals and scripts I realised this was going to be a very different journey to the ones I normally took when agreeing to present at a conference.
Proudly I announced the plans to my son in New Zealand who immediately responded with his admiration for all things TED. And not long after that I received in the post, from him, a video 'The World of TED' and a book 'How to Deliver a TED talk' by Jeremy Donovan – a book I would recommend to anyone doing any kind of talk or presentation. Game on.
My work involves modelling strategies for success and to do this I encourage the exemplars to do what they do well so that I can hang around them and observe. I have been doing this for years with a few of the exemplars namely Gene Early Master Coach and Frank Farrelly master of Provocative Therapy! Or failing the opportunity to do that I have them associate into a memory of what they do as if they are doing it now. It seemed therefore appropriate to do this myself for the experiences that I proposed to share with the TEDx audience. The consequence of this approach as opposed to say a narrative account in the past tense is that I re-experience all the emotions. And the emotions in my examples were overwhelming.
My first rehearsal was to the members of a group I was training in India, with the TEDx team watching and listening on skype. Ah the wonders of modern technology. And because of the subject and the audience, who felt very connected to this incident, it was very emotional for me and for them. I wondered if after many more planned rehearsals if I would lose touch with the emotion. My concerns proved to be unfounded. There is something about the impact of every new audience that enriches the experience even if that enriching is of the painful emotions. A big factor in the quality of the journey for me was the remarkable feedback that I received from everyone and especially those in the Paris team. "You are a good speaker Sue – you can be a great one!". I am a sucker for anything about 'the difference that makes the difference' I was hooked and would have been even without that challenge.
The next rehearsal was to be in French. I just did not have the language for some of the concepts that I wanted to share and I struggled. I relied on a translation kindly undertaken by one of the French coaches. Some of the words had never passed my lips before! My daily French comprises words like tronçonneuse, maïs, tournesol, encore une verre de vin… This was very different and nerve wracking. I struggled. My presentation lacked flow, coherence and emotion. But there was time and my coaches suggested that I might use notes. That took so much pressure off me. I even had links to other presenters who had used notes whose delivery was as powerful as those without. But what had I been teaching all these years in my support of people learning to read non-verbal behaviour? 'Do without the notes. You need your full attention on what is happening around you in the present.' Ah but surely this is an exception?. "Not at all – after all you have said to us Sue over the years" one of my previous students delightedly and mischievously reminded me! And after all I was using the quote by Gandhi in my talk "Be the example that you wish to see in the world!". Our teachings do invariably come back and bite you in the bum as we say!
Somehow this whole project had become more daunting than I ever could have imagined. And as I thought about it I realised that I was creating unhelpful images and dialogue in my head – the very thing I describe in my talk. I imagined a dark conference room with serious faces. I told myself that this could be the end of my credibility in teaching others to manage their state! Isn't catching these thoughts and changing them what my talk was all about? Time to apply to self. Whatever happens this has been huge learning … I lightened those inner images and the whole imagined experience began to take on a momentum and attraction that I had been dangerously close to losing. I imagined attentive faces and told myself that everyone who came to a TED talk wanted the presenters to do well. And I remembered a belief that I have long held, that 'self-consciousness is self-indulgence!'
The final rehearsals were every day on my bike as we toured through the Lot, the Auvergne and the Tarn. This was a very powerful metaphor for me as I pushed up through some of the mountains without stopping. I 'anchored' that state as one that I would wish for on the night of the talks – to keep going no matter what! And one final rehearsal to the local farmers wife who sat directly in front of me on her kitchen chair beside a huge bowl of cherries that she had just picked from her garden. She didn't move. I was not sure if that was the result of disbelief or fascination. She gave me the thumbs up. She said that she understood every word I said – "Impeccable!" I anchored my state at that moment too.
And so we headed up to Paris. Every time I experienced an ease and a confidence I anchored* it in some way so that I had this resource available to me on tap. But right up until the last moment I was questioning whether to have those notes in a back pocket just in case … ! I knew if I did it would not be the commitment that I had worked so hard to achieve over all these months. And I knew in my heart that there is a learning that comes from 100% commitment to a process; NLP is sometimes described as a commitment to a process—I like this definition. Doing this without notes for me was the 100%. And I wanted to honour my family, my sons, my friends in India and that young girl who did not survive the rape and all those the world over who have suffered in such a way. Connecting with purpose – surely there is rarely any other element more powerful than doing something that is beyond self? And so I took that spot on the red carpet and started to speak. And a little part of me seemed to be standing just behind me saying "Wow Sue you are speaking fluently – it is just happening" I have never experienced that before.
And now. It is over and I look back with great affection to the experience and to the whole TED process that is giving so much to the world. And when I cycle I have to remind myself that I no longer need to practice the talk .. but I do! Rehearsing for the time being seems to be still in the muscle!! I have had wonderful feedback and some of the most important is from my sons. I think they like it!
There were some other learnings .. like what the speakers get up to in the dressing rooms.. but that is a subject for another time!
First published at July 18th edition of the French Huffington Post.