What nonprofits can learn from Coca-Cola
At TEDxChange, Melinda Gates makes a provocative case for nonprofits taking a cue from corporations such as Coca-Cola, whose plugged-in, global network of marketers and distributors ensures that every remote village wants — and can get — a Coke. Why shouldn't this work for condoms, sanitation, vaccinations too?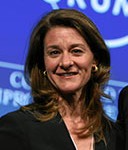 As co-chair of the Bill & Melinda Gates Foundation, Melinda French Gates helps shape and approve foundation strategies, review results, advocate for foundation issues and set the overall direction of the organization. Guided by the belief that every life has equal value, the Bill & Melinda Gates Foundation works to help all people lead healthy, productive lives. In developing countries, it focuses on improving people's health with vaccines and other life-saving tools and giving them a chance to lift themselves out of hunger and extreme poverty. In the United States, it seeks to dramatically improve education so that all young people have the opportunity to reach their full potential. Based in Seattle, Washington, the foundation is led by CEO Jeff Raikes and co-chair William H. Gates Sr., under the direction of Bill and Melinda Gates and Warren Buffett.