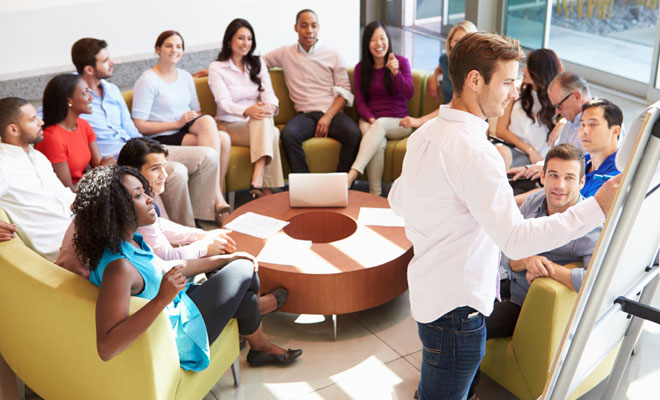 Super Creative Business
|
What does it take to be a super-creative business? It takes energy, enthusiasm and an unending curiousity for all things new. It takes paying attention to being fully who you are and having fun while you're doing it.
Super-creative businesses have a culture of innovation streaming through them, infused into the very nature of the business and in every person within it. Take a look at Maddock Douglas, a global innovation company. Nic Askew of Monday9am.tv and The Naked Enterprise recently filmed two of the partners of Maddock Douglas highlighting their culture and way of working in the super-creative field click here
One of the key things they talk about is a sense of wonder as their hiring criteria and the need for adventure in their daily lives. You'll love watching it as their enthusiasm for creativity is infectious. When I searched their website, I discovered this as their vision.
"Remember how much fun it was to think anything was possible? We did and still do. When we opened our doors in 1991, we were hooked on the rush of bringing new ideas to life – that magical moment when "What if?" turns into "A-ha!" Our goal was to build a destination for the most inventive, optimistic people – teammates and clients included – and that still rings true. Our passion for revolutionary, industry-changing ideas has fueled our reputation for propelling new products and services that make heroes out of our clients.
Now there's a vision statement!
And take a look at this YouTube video of Ross Lovegrove, Industrial Designer, talking about his love of industrial design as the art form of the 21st century created by people with amazing curiousity.
He says "I try to create this energy of invention every day in my studio, this kind of effervescent, fully charged sense of soup that delivers ideas."
Wait till you see his proposal for a solar powered car that becomes a street lamp at night! Now that's super creativity.
Dynamic, super-creative businesses have a sense of curiousity, adventure and innovation imbued into their culture. How can companies introduce this super-creative, dynamic culture into their businesses?
… Allow the freedom for people to be themselves and to express their creative potential … and that includes not having to wear suits every day into the office. As I've been exploring dynamic and super creative businesses, I've discovered that their founders and employees tend to dress in comfortable clothes that allow for expression and invention.
… Be willing to be different and not have to follow the 'traditional' approach, the way it's always been. Be daring and bold, ready to make a statement about who you are as a company and then stand by that with every fibre of your being.
… Live in complete integrity with yourself and everything you do. Dynamic businesses are led by passionate people who are absolutely committed to doing something that makes a real difference. They don't let that commitment slide just because something looks like it may cost less or be quicker to achieve. They imbue the culture of their organisations with a passion for what they stand for.
… Hire fabulous people with a sense of curiousity and fun. And create ways to celebrate that culture of adventure and fun throughout the company. Innocent Smoothies, as an example, hosts a PINK day once a year where the staff and distributors have a contest for the best pink costume worn that day.
… Use 'real speak', meaning don't garble it all up in corporate speak. Say what you really mean in a way that makes a light come on in people when they hear it.
… Make sure that everyone in your company is highly energised … and that means taking breaks, eating good food, getting out of the office for a bit and especially loving what they do. Get some colour into the office environment so that people love walking in the doors every day. Highly energised companies are naturally dynamic and super-creative. Take a look at how Google (voted best employer in America 2006 by Fortune magazine) achieves that: click here
… Acknowledge and reward creativity and invention in everyone in the company. If you're in a meeting, you can source a creative space simply by connecting with creation itself and bringing its energy into the room. Try this before starting a meeting where idea generation is desired: Ask everyone to connect to the energy of creation and then let the fun begin!
… And now I'm going to suggest the outrageous. I happen to believe that every company is alive in its own right and while the founders are important to the creation of its culture, anyone in the company can energise it and seek to fulfil its potential. If you spend just a few moments every day tuning in to your company, to what its needs are and to what its next level of potential is … you'll discover amazing insights and quickly realise that the bigger energy of the company itself can partner with you to bring everyone and everything involved with it more and more alive.
I'm an expert in working with the energetics and consciousness of companies. It's part of my own passionate contribution to evolving the way business contributes to the world today. Our company, the Evolutionary Network, is a dynamic, super-creative company in its own right and our vision is to bring everyone into their fullest magnificence, co-creating a vibrant, evolving world.
To fulfil this vision around evolving business, we now offer a two day Visionary Leadership course for business that inspires dynamism and super-creativity in organisations.