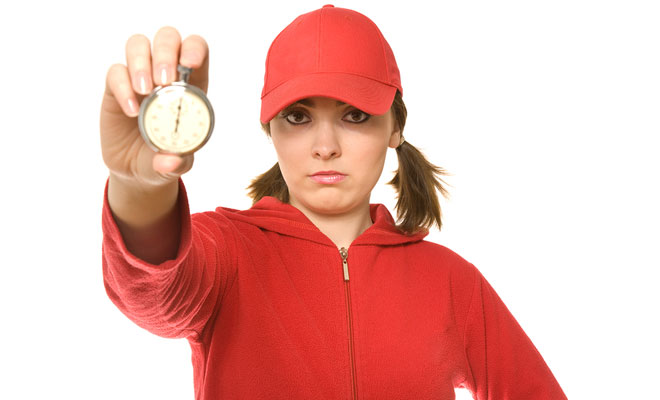 The Five Minute Coach
|
Managers have it tough. Well most of those I work with do. What I hear from the managers I meet in organisations, again and again, is that they work really hard and yet rarely feel that they're making their best contribution. A frequent theme is long hours, high stress, and far too little time out of work to get body and mind in balance, never mind achieve personal goals.
These managers are generally knowledgeable, skilled individuals. After all, that's how they got there jobs in the first place! They know they need to work smarter not harder. They want to stand back and take a strategic viewpoint of the work they and their teams are doing, and make fundamental improvements. Yet, managers such as these are often facing the pressure to achieve more with fewer resources and to hit short term targets and as a result spend much of their time problem solving.
When my colleagues and I noticed this pattern a few years ago, we were curious as to where all these problems were coming from. We soon discovered that, no matter the size of the organisation or the sector in which it operated, the vast majority of problems were being pushed up the organisation to be fixed. Often, the higher up the management ladder people sat, the more problem-solving they were being paid to perform – leading, directing and improving performance. Is it any wonder that these senior people were over-worked, stressed and generally frustrated?
Taking responsibility
Two fundamental shifts seemed to be required:
The first involved pushing responsibility back down the organisation, a combination of getting people to take responsibility – to devise solutions, to innovate and to make decisions – and the managers relinquishing responsibility.

The second shift was to move from problem thinking to outcome thinking.
All in all, quite a cultural change.
The FIVE-MINUTE Coach
So how could these changes be made in the organisations we were working with, speedily and effectively? Any new approach needed to be learned quickly – these were time-strapped managers – and must be able to be implemented and integrated pragmatically and effectively. My colleague, Mariette Castellino, and I put our heads together, and The FIVE-MINUTE Coach emerged. This was a coaching model that we developed for use – in as little as five minutes – 'on-the-job' by managers to empower team members, to support them to generate outcomes from problems, and ultimately to have them take responsibility for making things happen.
We had an extensive and wonderful array of NLP coaching tools to choose from in creating The FIVE-MINUTE Coach. However, we needed something that could be used easily and conversationally by people with no NLP knowledge or skill. We decided the principles of already informed by the work of James Lawley and Penny Tompkins whose modelling of the work of the late great therapist David Grove – Clean Language, Symbolic Modelling and Emergent Knowledge – is widely renowned.
Grove's innovative approach used what are known as 'clean questions' to generate amazing transformations in those he worked with. In simple terms, Clean Language involves using contain the minimum of assumptions by the questioner – and the precise words of the person being questioned.
Our experience had shown that, used conversationally, clean questions are very successful at getting people to do their best thinking – just what we wanted in this case. So we built The FIVE-MINUTE Coach as a model from which organisational managers can take as little as five minutes to work with a team member to create an outcome, or indeed an action plan. Alternatively, there is a more comprehensive range of questions with which a more in-depth, structured piece of one-to-one coaching can be undertaken.
A group of NHS managers transformed their ways of working as a result of The FIVE-MINUTE Coach. Their feedback included:
"I have been able to save over six man weeks of time, thereby allowing for strategic business development."
"We have increased capacity by 35%."
"Waiting time has now reduced from four weeks to two days."
"My personal stress levels are at least 50% lower and I am so much more effective."
Developing an outcome
The first part of the model which can be used particularly quickly and effectively, allows the coach to elicit and develop an outcome. A typical use would be where a problem is presented to the manager by a team member. The manager listens, acknowledges the issue and then asks: "And what would you like to have happen?" If the response to this question is a further outpouring about the problem, then the question is repeated until the other person's thinking shifts to an outcome focus. Once an outcome is expressed, insights and understanding can be deepened by asking more about the outcome. For the coach, this can be as simple asking two clean questions of specific words or phrases the team member has used.
These questions are:
 "What kind of ……?"
and
"Is there anything else about ……?"
Creating an action plan
Getting someone to work out what needs to be done – and to get on with it! – are achieved by another section of The FIVE-MINUTE Coach model. The straightforward question: "What needs to happen for …..?", where the question is completed with the words expressed by the other person for her outcome (what she'd like to have happen), leads to the team member starting to make decisions on required actions. There are often multiple parts to an action plan, and these "Is there anything else that needs to happen for….(the outcome)?" until the person being coached answers "No". The coach then requests a review of step with the question: "What needs to happen first?", and then checks out that the other person can indeed do that – are there any hidden barriers to getting things moving? – with the question "Can that happen?" or "Can you (do the first thing)?"
We've been training managers in The FIVE-MINUTE Coach for over four years now. Just using the two parts of the model that I have highlighted here, managers are the approach practical, easy to use and really time-effective. And of course it doesn't take long before their team members stop pushing those problems upwards! There is more to The FIVE-MINUTE Coach than I've outlined here. Suffice to say it offers a robust model with which to conduct a full coaching session where appropriate, but that will, as you'd expect, take more than five minutes!
Coaching
In fact, there's been quite a demand from professional coaches to learn to use The FIVE-MINUTE Coach too. Many coaches have found that coaching 'cleanly' in this way, with its particularly non-directive, client-led approach, has helped them to coach clients through much more powerful transformations. As Liz Macann, Head of Executive, Leadership and Management Coaching at the BBC, says: "Using The FIVE-MINUTE Coach has had an impact on my coaching. The power of using the client's exact words and the value of persistence when drilling down into the issue has helped get great insights and action plans. Listening on a deep level is the essence of coaching and it is very easy to think you know what you've heard or give it meaning that isn't intended by the client. It really helps with getting true clarity for the client about their issue and a depth of thinking in the exploration of it."